veropro 8 RS is a rotary swaged 8-strand, non-rotation resistant rope with compacted outer strands and a rope core covered with a plastic layer.
Has a very high breaking strength.
Has a very stable rope structure and achieves excellent bending fatigue results.
Offers superior crushing resistance and best resistance to abrasion
Possesses excellent spooling behavior on multilayer drum
May not be used with a swivel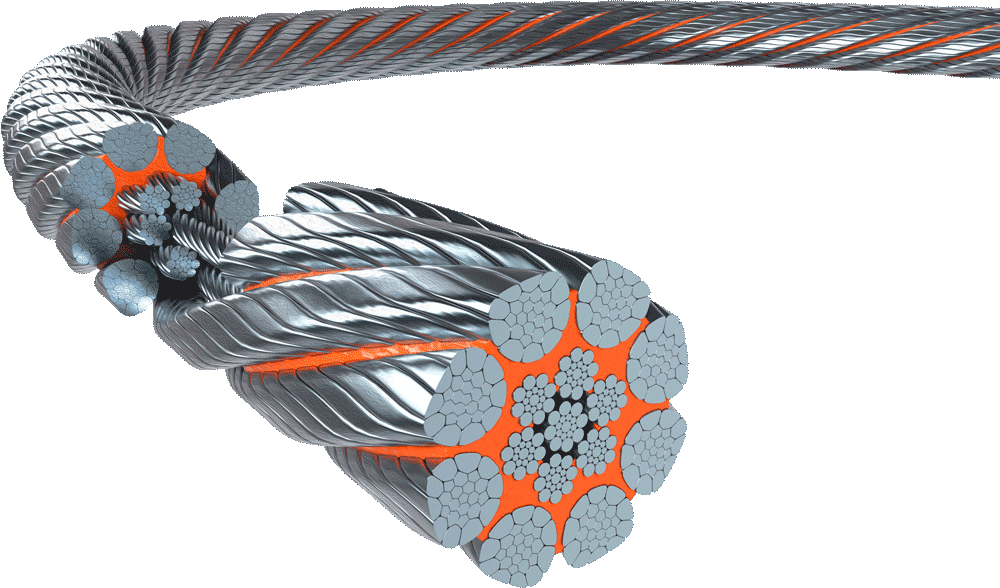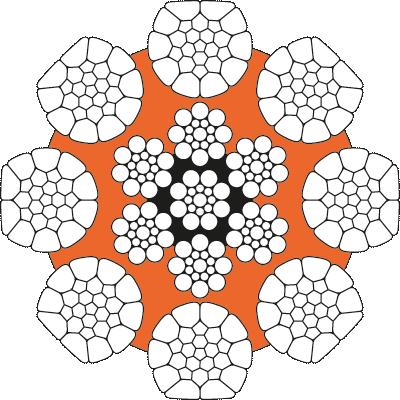 Technical Datasheet
Standard tolerance: +2% to 4%, other tolerances and rope diameters available upon request.
Nominal rope diameter
Approx mass
Minimum breaking force
Rope grade
1960
2160
mm*
Inch
kg/m
kN
t
kN
t
12
0.666
134.4
13.7
144.7
14.7
12.7
1/2
0.746
150.5
15.3
162.1
16.5
13
0.782
157.7
16.1
169.9
17.3
14
0.907
182.9
18.6
197.0
20.1
15
1.041
210.0
21.4
226.1
23
16
5/8
1.184
238.9
24.3
257.3
26.2
17
1.337
269.7
27.5
290.5
29.6
18
1.499
302.4
30.8
325.6
33.2
19
3/4
1.670
336.9
34.3
362.8
37
20
1.851
373.3
38
402.0
41
21
2.040
411.5
41.9
443.2
45.2
22
2.239
451.7
46
486.5
49.6
22.4
2.322
468.2
47.7
504.3
51.4
23
2.448
493.7
50.3
531.7
54.2
24
2.665
537.5
54.8
578.9
59
25
2.892
583.3
59.4
628.2
64
25.4
1
2.985
602.1
61.4
648.4
66.1
26
3.128
630.9
64.3
679.4
69.2
27
3.373
680.3
69.3
732.7
74.7
28
3.627
731.6
74.6
788.0
80.3
28.6
1-1/8
3.785
763.3
77.8
822.1
83.8
29
3.891
784.8
80
845.3
86.1
30
4.164
839.9
85.6
904.6
92.2
31
4.446
896.8
91.4
965.9
98.4
32
1-1/4
4.738
955.6
97.4
1029
104.9
33
5.039
1016
103.6
1095
111.5
34
5.349
1079
109.9
1162
118.4
35
1-3/8
5.668
1143
116.5
1231
125.5
36
5.996
1209
123.2
1303
132.7
38
1-1/2
6.681
1348
137.3
1451
147.9
40
7.403
1493
152.2
1608
163.9
41.3
1-5/8
7.892
1592
162.2
1714
174.7
42
8.162
1646
167.7
1773
180.7
44
8.957
1807
184.1
1946
198.3
45
1-3/4
9.369
1890
192.6
2035
207.4
46
9.790
1975
201.2
2127
216.7
47.5
1-7/8
10.439
2106
214.6
2268
231.1
48
10.660
2150
219.1
2316
236
reasons to rely on verope
© verope AG | All rights reserved